Skeet W – Slovakia's Bartekova back on Cairo's podium
The 24-year older Slovakian shooter Danka BARTEKOVA won today's Skeet Women event at the ISSF shotgun World Cup in Cairo, Egypt. Behind her, Thailand Sutiya Jiewchaloemmit won Silver in spite of equalling the world record in the qualifications.
The Slovakian athlete Danka Bartekova shot the second Gold medal of her international career with an excellent score of 97 hits, by shooting-off Thailand's Sutiya JIEWCHALOEMMIT 2 to 1 hit.
Bartekova had walked into the final match in third place, with a qualification score of 73 hits, and climbed the scoreboard to the highest step of the podium with  a perfect final of 25 hits.
This is not the first time Bartekova shoots an award in Cairo "This must my lucky city! I had won my first World Cup Gold here in Cairo, in 2006, shooting at old range, and a Silver medal at the 2001 World Championships, as junior shooter! This new range is beautiful, it's a great place to compete."
The Slovakian athlete had walked into the Games as one of the favourites, but once in Beijing she struggled and could not find her way to the medal match. "That was a completely new situation for me, stressing me quite a bit. This is a new start… so great to be back on Cairo's podium!"
"I met some of the best Skeet shooter of the world in today's final. It has not been easy, I've only been thinking about my targets…I will now come to compete at the ISSF World Cup Stages in Munich and San Marino, we'll see how tables will turn there" added the Slovakian athlete. 
Today's Silver medallist Sutiya Jiewchaloemmit had qualified this morning thorough an outstanding qualification series, where she had equalled the current World Record of 74 hits (set at the 2005 ISSF World Cup in Belgrade by Elena Little, GBR, and equalled seven times since then). The Thai shooter struggled with the light during the final match, and dropped two determinant clays in the first part of the round finishing in the shoot-off with Slovakia's Bartekova.
Beijing's Olympic Champion Chiara CAINERO of Italy did not play her best game today. The 31-year old shooter, current #1 in the world raking, started the final with a qualification score of 73 targets, only one target behind qualification's leader Jiewchaloemmit.
Later on, during the final match, Cainero struggled on station 4, dropping two clays, and on stations five and eight, where she lost two more determinants targets. Beijing's champion closed the match in fourth place, outdoing world #3 Andri ELEFTHEROU of Cyprus in a shoot-off 6 to 5 targets.
Bronze went to USA's Connie SMOTEK, an expert ISSF World Cup multi-medallist coming form Texas, who climbed the scoreboard form the fifth to the third place, stepping upon the podium with a total score of 95 hits (70+25). 
"I am very happy with the way that I shot today, and with the Bronze medal! This is the only world cup where I am competing this year." Smotek said right after the final round "I really loved competing in this shooting range!" the American shooter added right before stepping on the podium.
USA's team great performance was highlighted alos by the 18-year old shooter Caitlin CONNOR. The young shooter had never participated in an ISSF competition before, and debuted on Cairo's ranges by making into the six-athlete final through a shoot-off and by getting a sixth place with a total of 90 hits (70+20).
The Skeet Men final will take place tomorrow, scheduled at 2 PM Cairo Time (GMT+3).
After the first competition day, Ukraine's Mikola MILCHEV is leading the provisory rank with a full score of 75 hits out of 75 targets. Behind him, Olympic Champion Ennio FALCO of Italy follows with 74 hits, and the home player, Egypt Franco DONATO is not that far, with 73 hits.
The last qualification rounds and the final match are announced to be tough.
Keep on following the competition! Be where it happens, be on www.issf-sports.org.

Marco Dalla Dea (ISSF HQ)
http://www.issf-shooting.org/news.ashx?newsid=1004
ISSF World Cup - Cairo, EGY 08.05.2009
Skeet Women
Rk

Name

Nat

Round

Qualification

S-Off

Final

Total

Final S-Off

Remarks

1

2

3

Total

1

BARTEKOVA Danka

SVK

24

25

23

72

25

97

2

   

2

JIEWCHALOEMMIT Sutiya

THA

25

24

25

74

23

97

1

EWR   

3

SMOTEK Connie

USA

23

24

23

70

2

25

95

   

4

CAINERO Chiara

ITA

25

24

24

73

21

94

6

   

5

ELEFTHERIOU Andri

CYP

24

23

24

71

23

94

5

   

6

CONNOR Caitlin

USA

23

24

23

70

1+11

20

90

   

7

YU Xiumin

CHN

22

25

23

70

1+10

   

8

LITTLE Elena

GBR

24

20

25

69

   

9

SPADA Katiuscia

ITA

23

22

24

69

   

10

BAO Cunmei

CHN

24

22

23

69

   

11

LARSSON Nathalie

SWE

23

24

22

69

   

12

BARTEKOVA Lenka

SVK

23

21

24

68

   

13

JAHODOVA Libuse

CZE

23

23

22

68

   

14

LUPAN KASSIANIDOU Bianca

CYP

20

24

23

67

   

15

THEOPHANOUS Louiza

CYP

22

23

22

67

   

16

ZHANG Heng

CHN

22

24

21

67

   

17

ENGLISH Amber

USA

20

25

21

66

   

18

VITALI Cristina

ITA

21

21

23

65

   

19

STRANOVSKA Andrea

SVK

21

23

21

65

   

20

JAFAROVA Nurlana

AZE

22

22

20

64

   

21

DEPPA Yana

UKR

20

22

20

62

   

22

AL TEBAISHI Deena

QAT

21

21

20

62

   

23

NENKOVA Nadejda

BUL

20

20

21

61

   

24

RATHORE Rashmee

IND

21

19

21

61

   

25

SHEIKH Saniya

IND

21

19

19

59

   

26

MEFTAKHETDINOVA Rigina

AZE

22

20

16

58

   

27

MIHALIOU Eleni-Maria

GRE

19

20

17

56

   

28

ELHAWARY Mona

EGY

19

18

18

55

   

29

ALRASHIDI Shaikhah

KUW

21

16

14

51

   
EWR - Equalled World Record
http://www.issf-shooting.org/xmlresultpage.aspx?cshipid=921&resultkey=C000000I_0805090900.1.SK75.0
WCF 2009 Skeet Women (standing after WC 2009 Cairo, EGY)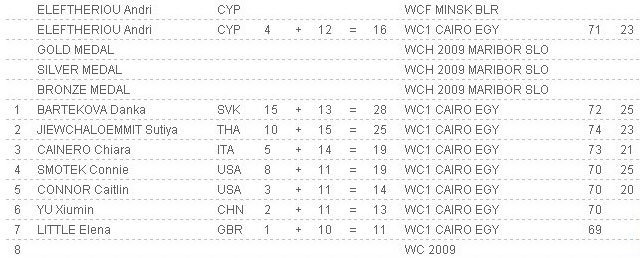 http://www.issf-shooting.org/results/wcf_qualification/qualifications.ashx?event=SK75&evlinkid=302